MES INDUSTRY FORUM: Technical Workforce Re-engineering
The Tributary Initiative for Learning, in collaboration with Cummins West Africa and the Institute for Industrial Technology (IIT), organised a Manufacturing, Engineering and Services Industry Forum, which held on the 12th of April, 2018. The event was geared towards discovering challenges and proffering sustainable solutions that would help improve technical education and recruitment. The forum is an important step towards an integral development of the field of Technical Vocational Education and Training (TVET) in Nigeria.
The shortage of skilled technicians has always been a problem for the Nigerian economy. In the industrial and services environment, a mismatch exists between the workforce and the skills required to man a job. The importance of technical training cannot be overemphasised and this led to the maiden edition of the MES Industry Forum, which took place at IIT.
As a leader in the TVET field, IIT shared its experience in developing qualified multiskilled technicians for the Nigerian manufacturing, engineering and services industry. IIT has 18-year experience in technical education. The Director, Mr. Olumide Akinjo, identified various challenges that the institution has faced over the years. He stressed the need for institutions and individuals to partner in order to aid the growth of the TVET field and, in return, develop their organisations and the country's workforce.
Technical education and its theoretical counterpart can be seen as representing the two sides of the industrial sector. People in society complain about the lack of skilled technicians, craftsmen and artisans but this can be traced to the poor renumeration of many in the technical field. Sadly, there has been a constant conversion of engineers to technicians in several manufacturing and engineering services firms. Therefore, the forum suggested that proper measures should be taken in identifying, employing, renumerating and retaining skilled technical talent so that organisations have cost savings on technical training.
Another problem identified is the poor attitude to work of many technicians. Such technicians, however, can hardly read or write and therefore, rather than being considered as technicians, should be seen as semi-skilled labour. As such, they lack a technical mindset and find it difficult to understand technical blueprints, manuals and instructions. This inevitably leads to poor technical performance, slipshod work and may result in loss of revenue.
IIT has put in place a structure to deal with these challenges. The core multiskilling technical education that the institution offers consists of a 3-year programme of which 70% is a mixture of basic practice and work practice, and 30% is theory. In addition, IIT ensures that each student trainee is properly groomed in work ethics, soft skills and etiquette as well as ICT skills. The students also undergo continuous mentoring and all of these serve to promote a culture of excellence within the organisation.
The MES Industry Forum was well attended by representatives from various companies as well as other highly knowledgeable personalities. They all revealed relevant information that would be of benefit to the development of TVET in Nigeria. Among those present were Nkechi Mbanu (Partnership Development Manager; Cummins Inc.), Carole Wanjau (Corporate Responsibility Leader; Cummins Africa and Middle East Ltd.), Abiola Abioye-Yusuff (Business Project Leader; Cummins West Africa Ltd.), Winifred Amase (Training Project Coordinator; Schneider Electric), and Chidinma Ike (Head, Recruitment, and Selection; Integrated Corporate Services (ICS) Ltd.). Also present were Ifeyinwa Alex-Anene (TEC/ CR Project Manager; Cummins West Africa), Oduwa Agboneni (Co-Founder/Chief Executive Officer; Nenis Auto Care Ltd.), Jody Adewale (General Manager; ETIWA Ltd), Afolabi Adeniji (Training and Development Consultant; Ascentech Services Ltd.), Olumide Ogunsanya (Head, Electrical Maintenance Division; Eko Hotel and Suites Ltd.), Funke Ozoya (Human Resource Executive; Provast Ltd.), and Tunde Badejo (HR Coordinator; VACC Ltd.).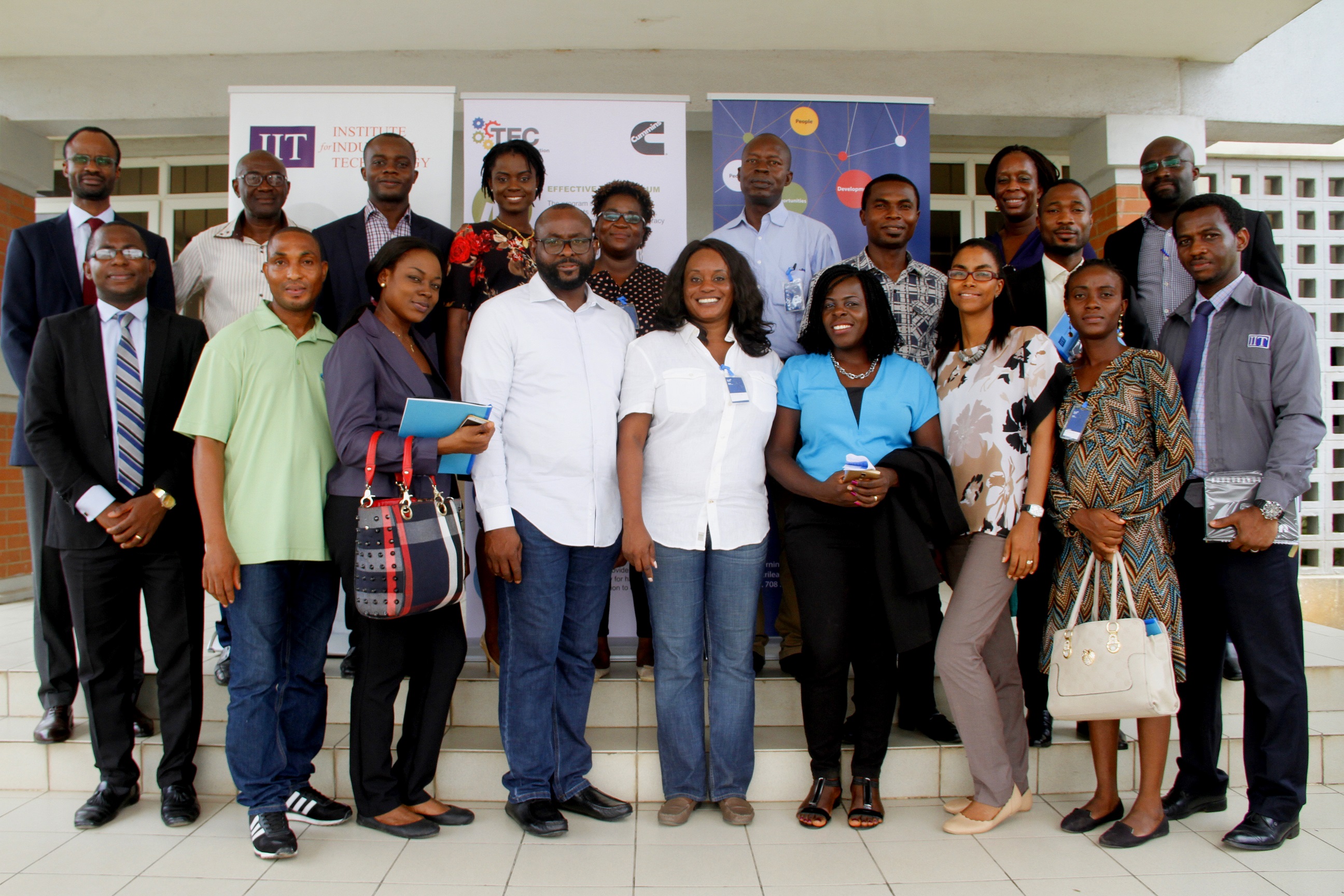 Transforming Lives...
IIT_Lagos