IN-TECH Workshop: Free Technical Training for Secondary School Leavers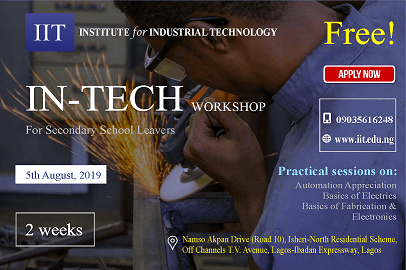 The In-Tech workshop is a 2-week free practical technical course aimed at introducing secondary school leavers to industrial technologies in areas such as automation, mechanical, electrical and electronics trades.
Outstanding participants stand a chance to win scholarships in the Electrotechnics or Electromechanics programmes.
Practical sessions would include:
Automation appreciation
Basics of Electrics
Basics of Fabrication &
Electronics
We prepare our students with the right knowledge, skill and attitude of a competent technician.
IIT_Lagos